03/18/16
Stack
Merupakan bagian dari structure data yang penting yang menyimpan elemennya dengan susunan yang beraturan.
Stack tersusun dengan :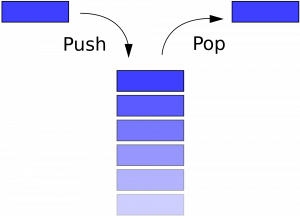 Stack mempunyai 2 variabel :
TOP digunakan untuk menyimpan alamat elemen yang paling atas
MAX digunakan untuk menyimpan angka maksimum dari elemen stack tersebut
Operasi stack :
push(x) : Meletakan x ke atas stack
pop() : Menghilangkan elemen teratas pada stack
top() : Memunculkan/mengembalikan elemen teratas dari stack
Top bisa disebut juga peek.
Ada beberapa aplikasi yang menggunakan structure data stack :
Infix evaluation
Postfix evaluation
Prefix evaluation
Infix to Postfix conversion
Infix to Prefix conversion
Depth First Search
Stack banyak digunakan untuk :
Membalikan order data
Mengubah ekspresi infix ke postfix
Mengubah ekspresi postfix ke infix
Menganalisi masalah
Sistem stack digunakan dalam setiap fungsi rekursif
Mengubah angka desimal ke angka binary
Queue
Elemen queue terdiri dari front dan rear.
Queue tersusun dengan :
FILO (First in last out)
Operasi queue :
push(x) : Menambahkan x ke belakang queue
pop() : Menghilangkan elemen front queue
front() : Memunculkan/mengembalikan elemen front dari queue
Front disebut juga peek.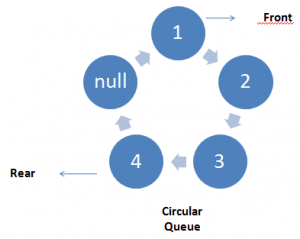 Circular Queue
Ada beberapa aplikasi yang menggunakan structure data queue :
Deques
Priority Queues
Breadth First Search